After Sales Support
BFM® SOLUTIONS
After Sales Support
BFM® SOLUTIONS
After Sales Support
Perfect after-sales service and support for accessories and services
The tenet of Lagoon (Beijing) is "Serving every customer and customer trust", and Lagoon (Beijing)'s responsibility reflects our commitment to customer service. We believe that it is best practice to fully satisfy our customers. This creed is reflected in our comprehensive after-sales activities.
At Lagoon (Beijing), we realized how important it is to keep the user's production line running. Therefore, Lagoon uses the world's highest-end first-line brand, reliable, reasonable price, timely service, and we have ample spare parts, so you can quickly get the accessories you need, no matter where you are. We guarantee that the accessories are of good quality, complete size and standard, long service life and strong wear resistance. Various material certificates and certificates are available upon request. In addition, all accessories except the wearing parts have a 12-month warranty period to prevent defects in production or materials.

The BFM® fitting is a revolutionary, snap-in, flexible connector and spigot that eliminates the problems associated with traditional hose clamp systems.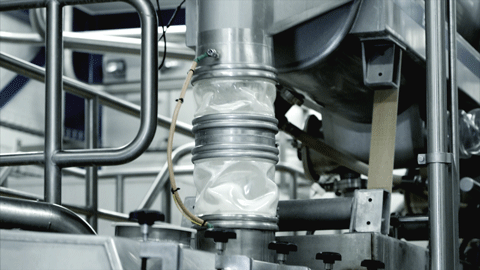 BFM®s patented connectors provide superior performance:
• 100% sealed, no mess, no leaks
• Seals tighter under pressure
• No product build-up means better hygiene
• No tools required for fitting
• Snap-in design makes installation easy
• Standardised connector sizes mean you need to keep less stock
What sizes do they come in?

BFM® spigots and connectors are available in a variety of diameters in 50mm (2") increments, from 100mm (4") up to 1,650mm (65").

Most of our connectors are available in lengths starting at 80mm (3"), then in 50mm (2") increments from 100mm (4") up to 6 metres (19ft 8").
(Note: for larger diameters from 700mm (27.5") upwards, certain length restrictions apply).
What are BFM® connectors made from?
BFM® fitting manufactures a range of patented products available in a variety of materials:
• Clear Polyurethane USDA Dairy Equipment Approved - Seeflex 040E/020
• Breathable Polyester for high-temperature installation - LM4
• Breathable Polypropylene for low-temperature installation - LM3
• Polytetrafluoroethylene (PTFE) for very high temperatures, caustic or acid - Teflex
• Kevlar flame retardant covers for over-pressure and potentially explosive applications
• Polypropylene light blocking Black Out covers for light-sensitive applications
• End caps, blanking socks and breather bags are also available
How is BFM® fitting used?
The BFM® fitting is used in a wide variety of applications involving dry dust or powders to supersede old hose clamped systems:
• Vibrating & oscillating sifters
• Conveyors & Feeders
• Fans
• Baghouses
• Silos & bin inlet & outlets
• Cyclones
• Blenders
• Vibro tubes
• Rotary valves